De Amicitia was commissioned by composer Timothy Mahr to help celebrate the 25th Anniversary of the Twin Ports Wind Orchestra, a group originally formed by the composer.

About the piece the composer writes, "As I pondered the concept for this work, I found myself repeatedly recalling my time with the ensemble during its first four years, as well as marveling at the group's maturation and transformation since those early sessions. Certainly committed music making has marked their efforts throughout the past twenty-five years, but I think what is equally impressive but not all that surprising has been the level of friendship found between the members."

The composition, inspired by this camaraderie, was on the mind of the composer throughout the creative process. When finished with his work on the piece Mahr writes, "I realized that this music was indeed about friendship." This lead to the title of the composition, De Amicitia, a Latin phrase that translates as "On Friendship." The title is from a treatise of the same name by Roman orator and statesman Marcus Tullius Cicero.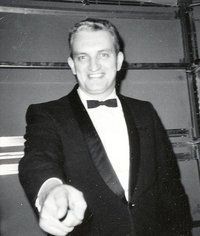 Jim grew up in Minneapolis & graduated from Minneapolis West HS in 1951. He received his BMME (Cum Laude) from the MacPhail College of Music (Minneapolis), his MMME equivalent degree from the University of Wisconsin-Superior and did graduate work at the University of MN-Duluth and the Eastman School of Music. While attending college Jim played in many jazz groups, besides directing his own band, and had the distinction of playing with the late jazz notables Don Ellis and Bud Brisbois. His trombone studies included work with the great Emory Remington of the Eastman School of Music, Eugene Bird of the Minneapolis College of Music and Steve Zellmer, principal trombonist of the Minnesota Orchestra.
He completed his graduate studies at UWS, UMD & The Eastman School of Music. He began his 35 year public school teaching career in Boyceville, WI, moving to Aurora, MN in 1959 where he met his wife of 42 years, Helen Rosandich. In 1967, Jim started his 23 years as Duluth Central High Schools band director. His concert bands and jazz ensembles received countless regional, state & national distinctions. He influenced the lives of thousands of young people as their teacher, role model, mentor and overall inspiration. Jim led by example, playing trombone in many groups, holding numerous offices & receiving national awards including 1987 NAJE Jazz Educator of the year, induction into MMEA Hall of Fame in 1995, the prestigous ASBDA Goldman Award in 2007. After retiring in 1990 he continued teaching, adjudicating and playing. More than anything Jim loved his family & especially enjoyed sitting back watching them have a good time. He was an avid fisherman & golfer and loved spending time at the cabin.
Mr. Stellmaker taught privately, adjudicated at District, Region, State and College Band and Jazz Festivals plus played in various community bands, jazz ensembles and brass ensembles. On occasions he substituted with the Duluth-Superior Symphony Orchestra (DSSO) and the Lake Superior Chamber Orchestra. He was principal trombonist and personnel manager with the DSSO for 18 years and a member of the Ice Capades Orchestra for 23 years including accompanying Bob Hope, Jerry Lewis, Dinah Shore, Doc Severinsen, Tom Jones, Sonny and Cher, Gisselle McKenzie, Dave Brubeck and others. Jim also either played in or conducted bands in such musicals as Music Man, My Fair Lady, George M. Cohen, On A Clear Day, South Pacific and Anything Goes.
In his 23 years at Central High School, the Concert Band and Jazz Ensemble received superior ratings from every judge at all District, Regional and State music contests in addition to festivals held in St. Louis, Orlando and Chicago. The Jazz Ensemble received "Outstanding Band" awards at jazz festivals held in St. Louis, Orlando, Chicago, Bemidji, Duluth, Minneapolis and Eau Claire. The Jazz Ensemble had the distinction of receiving the top honor in the class A Division of the Eau Claire Jazz Festival the last five years it entered.
The Central High School Bands have performed at the MN Music Educators Convention (MMEA) Convention, the national American School Band Directors' Association (ASBDA) Convention, the World Curling Championship opening and closing ceremonies that were televised around the world via Canadian television in addition to numerous events of distinction. The band played premiere performances of compositions by Jim Curnow and Les Hooper and performed with guest artists Doc Severinsen, Clark Terry, Ed Shaughnessy, Bill Tole, Thom Mason, Steve Houghton and Bob Kase. The Jazz Ensemble was also selected as one of eight bands in the United States to be placed on the National Association of Jazz Educators (NAJE) Project IV recording.
Mr. Stellmaker received the NAJE Educator of the Year award for Minnesota in 1987, was inducted into the Minnesota Music Educators Hall of Fame in 1995 and received the distinguished National Edwin Franko Goldman Award presented by ASBDA in 2007. He was the treasurer for the MN Chapter of ASBDA and served as chair for the National Organizing Committee and the Building the Organization Committee for the national ASBDA. In 2002, Mr. Stellmaker was a co-chair for the national ASBDA convention held in Duluth, MN.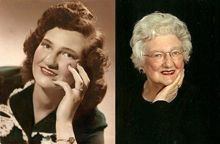 Ruth Dodge was a founding member of the Twin Ports Wind Ensemble. She was a rare and extraordinary person and a gifted musician. Music truly was her life! She began her 78 year career as the youngest member of the Duluth Superior Symphony Orchestra and throughout her life performed in an array of dance bands and musical groups including: the Musician's Union Band, the Hungry Five, We Three Plus, the Twin Ports Wind Orchestra, the Windjammers, and Woodland Community Band (which she also conducted). She was an exceptional and inspiring music teacher, both in the parochial schools for 16 years and for the rest of her life as a private instructor for countless students. In appreciation for her life's work, she was honored with the Depot Foundation Lifetime Artist Award in 2006. Lovingly known as "Ruth from Duluth," there was always a song in her heart and a smile on her face. The gifts she shared with the world through music will continue exponentially.
"Joie de Vivre", by James Bonney, was commissioned by the Twin Ports Wind Orchestra, the TPWO membership and Ruth's family and friends. It is written to honor the remarkable, musical life of our friend Ruth Dodge. Her legacy of music, music making and teaching will always live in our hearts.
Joie De Vivre
(Joy of Living)
Dedicated to Ruth Dodge
music by Jim Bonney
lyrics by Marissa Dodge
Every note becomes a seed
infinite possibilities.
When that harmonic garden starts to bloom
pure joie de vivre infuses all the gloom.
Life is a bittersweet song
the melody never lasts long.
So while we're here let's play it from our souls
until we feel the joy in every note.
The world is a grand symphony
when we play it with joie de vivre.